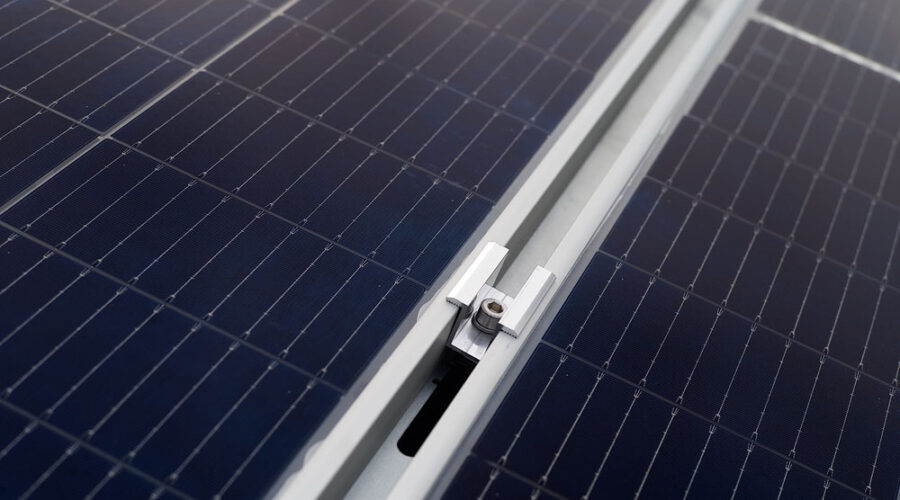 What should we focus on when selecting a fixing system for photovoltaic modules?
Selection of an appropriate fixing system for photovoltaic modules represents a crucial stage in the investment process, as it is responsible for stability and safe operation of the entire system.
For this reason, it is better to chose solutions from reliable manufacturers of photovoltaic structures, such as Energy5, which is the first and only one in Poland that declares performance of its products on a basis of the Polish Technical Approval. A range of declared functional and operating features is much more extensive than provided in EN 1090-1.
From the point of view of the PV investment contractor, cooperation with suppliers of fixing elements that meet relevant provisions of the construction law and conform to current standards is important. Investors and fitters should require from a structure manufacturer tests of load bearing capacity of fixing elements. Harsh weather conditions occurring in Poland, including strong wind blows or violent storms, represent a severe danger and may result in the release of modules from fixing components. Such situation not only represents a risk of damage to a module or a structure, but also a risk of injury for people in the vicinity of that system.
Energy5 is distinguished by well-developed research and development activities, and technical parameters of fixing components and entire structures confirmed by a number of advanced tests, including connection strength tests, loading of panels with their support structure, corrosion tests in salt and sulphur dioxide chambers, tests of AERO systems in wind tunnels, and fire resistance tests for the BIPV system. Advantages of structures supplied by Energy5 have been recognised by hundreds of customers for whom safe and long operation is a top priority.
Photovoltaic modules should be installed on supporting structures constructed in accordance with current standards and regulations. When selecting a fixing system, a size of modules, an investment location in terms of wind and snow zones, and manufacturer recommendations concerning installation method should be additionally taken into account.
It should be emphasised that safe and reliable operation of the construction results from a set of characteristics and conditions such as external influences, properties of materials, quality and control of workmanship and installation, and each is burdened with a difficult to determine but possible to limit likelihood of variability.
In the Polish legislation, this issue is regulated by an implementing act to the Construction Law – Minister of Infrastructure Regulation concerning technical conditions that should be meet by buildings and their location of 12 April 2002 (Journal of Laws of 2002, No. 75, item 690, as amended).
Pursuant to Article 204.1, The structure should meet conditions ensuring that limiting states for load bearing and for usefulness are not exceeded in any of its components and in the entire structure.
4. Structure safety conditions provided for in section 1 are considered met when the structure meets Polish Norms concerning designing and calculating the structure.
Furthermore, it should be remembered that a fixing component should also be tested for its resistance to corrosion, so it can be dedicated to zones of corrosion class from C3 to C5, depending on a location of a photovoltaic system. These components should be verified each time.
Legal requirements for load bearing capacity of fixing components
Every manufacturer should present tests for load bearing capacity, to meet the requirements of the above mentioned Article 204.1 – "ensuring that limiting states for load bearing and for usefulness are not exceeded in any of its components and in the entire structure."
Usually, a structure manufacturer confirms that it meets the above legal requirements by submitting documentation for load bearing capacity, confirming correct installation of modules. Another way to declare such load bearing capacities is to have them tested at laboratories that perform tests simulating a combination of wind and snow load, e.g., in the Building Research Institute. These tests verify whether a layout of the structure with modules and their fixing correspond to parameters required in the standards.
Functional and usability parameters of fixing components can be confirmed also by system tests in wind tunnels. The AERO ballast systems manufactured by Energy5 underwent such tests, and thus correct fixing of modules was confirmed following their exposure to excessive wind of up to 140 km/h.
See how the AERO S system was tested in the wind tunnel
The assembly instruction for the module contains provisions requiring from fitters to install the modules only at a specified distance from a module edge. But in reality it is found that modules in photovoltaic systems, especially in ballast systems, are placed in module corners, and this may result in excessive bending and release of fixing components. However, the greatest deviations from manufacturer recommendations are found for installation of large modules. It should be remembered that when a customer does not follow installation instructions of the manufacturer, they will lose a right for guarantee claims in the case of module failure.
Calculations of Energy5 clamp load bearing capacity
Assumptions: a photovoltaic farm constructed in a seaside zone (wind zone 2, land class 2 in accordance with Eurocode), with a basic wind speed of 26 m/s. A module of a 2.2 m2 fixed at four points was used in the analysis. In the case of complex or customised systems (excluding metrical connections), a load bearing capacity of clamp fixing should be specified on a basis of laboratory tests performed using a combination of loads, or on tensile testing machines, as shown in the example below.
In accordance with the presented data, the load bearing capacity of the Energy5 clamp was calculated taking into account module parameters, wind and snow zones, assumed clamp load, and other factors. The analysis simulated a load bearing capacity of fixing components equal to 4.6 kN, i.e., ca. 460 kg.
The above analyses indicate that load bearing capacity of clamps (without any shift or play related to elastic strains loosening module fixing), depending on a place of its occurrence, should amount to 2.43 kN, 1.5 kN, and 2.99 kN, respectively. The above calculations were performed on a basis of Eurocode standards, taking into account results of tests performed on a tensile testing machine by Energy5 Sp. z o.o.
A second case, in which a load bearing capacity of fixing components equal to 2 kN, i.e., ca. 200 kg was simulated, is presented below.
In this case, the limiting conditions for the load bearing capacity were not met, and this suggests that the assembling method must be changed, or additional fixing points should be added, if possible, while taking into account guidelines of the module manufacturer. Otherwise, it cannot be stated that the structure meets the requirements of the Minister of Infrastructure Regulation concerning technical conditions that should be meet by buildings and their location of 12 April 2002 (Journal of Laws of 2002, No. 75, item 690, as amended).
The same analysis should be prepared for each type of overground and roof structures, or the above tests should be submitted. Substructure solutions, e.g., of the AERO type, based on plastic supports to which the modules are attached, are available in the market. In such cases, it is not possible, e.g., to perform numerical analyses for such fixing solutions, therefore, laboratory tests must be performed. The release for circulation and use also requires obtaining of the Polish Technical Approval, because these products are not made of steel, as described in PN-EN 1090-1.
Energy5 – a certified supplier of photovoltaic structures
Energy5 is a Polish manufacturer of fixing components for photovoltaic modules, valued for quality and safety of its products, confirmed by numerous tests and certificates of leading research entities. With a comprehensive servicing, including an individual design of the system and expert support for consulting and technical services, the company won the trust of over 600 Customers. Our own machine pool equipped with 5 production lines ensures for Energy5 a complete manufacturing independence and execution of designs otherwise not available in the market.
The Energy5 annual production capacities amount to 1 GW for ground systems and 300 MW for roof structures, tested in accordance with all current regulations, including those specified in the article.
01.02.2021