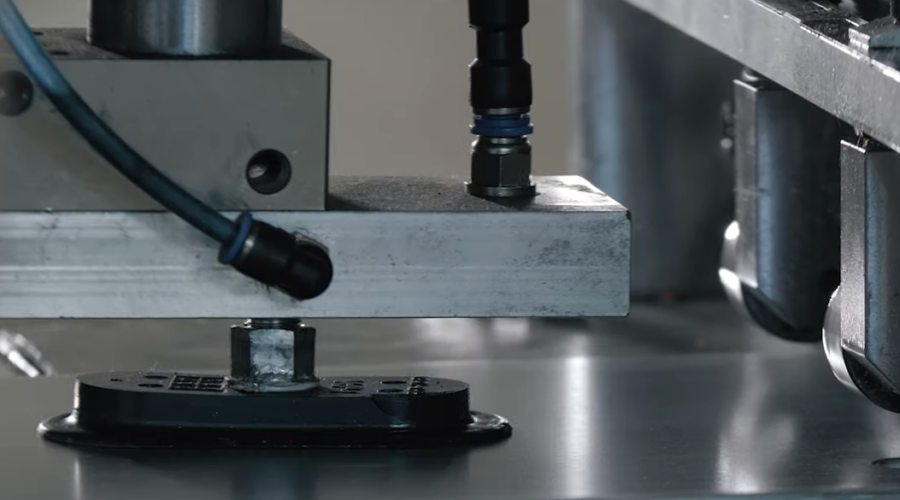 Energy5 confirms the quality and safety with new certificates
The idea behind the activity of Energy5 has always been to provide the market with photovoltaic solutions that will meet the highest quality standards. The choice of the company as a designer, producer and supplier of PV module mounting systems is a manifestation of exceptional care for the durability and safety of photovoltaic investments.
Thanks to the certification process carried out by DEKRA Certification Sp. z o.o., the Energy5 company once again confirmed its high commitment not only to the production of proven photovoltaic solutions, but also to effective quality management in the plant, pro-ecological activities and creating safe workplaces.
The successfully conducted audit and certificates received by Energy5 prove the implementation and realization of:
 - Quality Management System in accordance with the widely known and internationally accepted ISO 9001: 2015 standard,
 - Occupational Health and Safety Management System in accordance with the international standard ISO 45001: 2018,
 - Environmental Management System in accordance with the world's dominant international standard ISO 14001: 2015.

The introduction of the ISO standard is the result of the consistent policy of Energy5, focused on improving both the product offer and the way the entire organization functions. The properties of the products are confirmed by numerous tests carried out in cooperation with the Building Research Institute and the Institute of Precision Mechanics, while the internationally recognized ISO 9001:2015 standard guarantees that the plant meets the highest quality standards at every level.

The manufacturer pays great attention to creating an effective work safety policy, the documentation of which is an important factor for both Polish and foreign contractors. Thanks to the ISO 45001:2018 standard, the company creates a culture of safe work, identifies threats and prevents them early, and, as a result, increases the level of employee safety.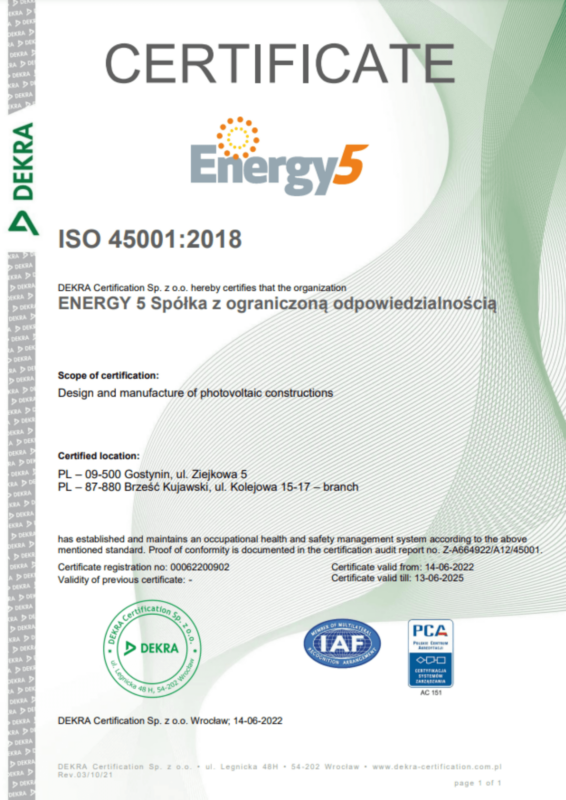 As a leader in the production of photovoltaic structures, Energy5 also focuses on the implementation of activities aimed at reducing greenhouse gas emissions and preparing the company to react in the event of environmental threats. Awareness of the constantly increasing CO₂ emissions to the environment prompted the company to balance the production process, use renewable energy sources to power electrical devices, replace parts of combustion cars with top-class electric vehicles and plant 700 trees in the Gostynin commune, where the Energy5 headquarters is located.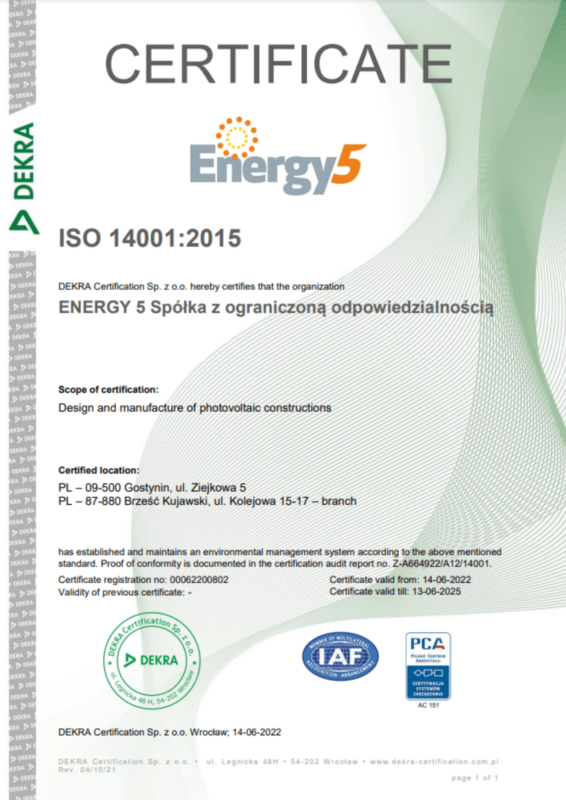 DEKRA Certification Sp. z o.o. is an independent certification body, part of the international DEKRA SE concern – a world leader in the field of security, specialized audits and certification of management systems.
22.06.2022